Why SERVPRO? We Love Giving Back
3/9/2021 (Permalink)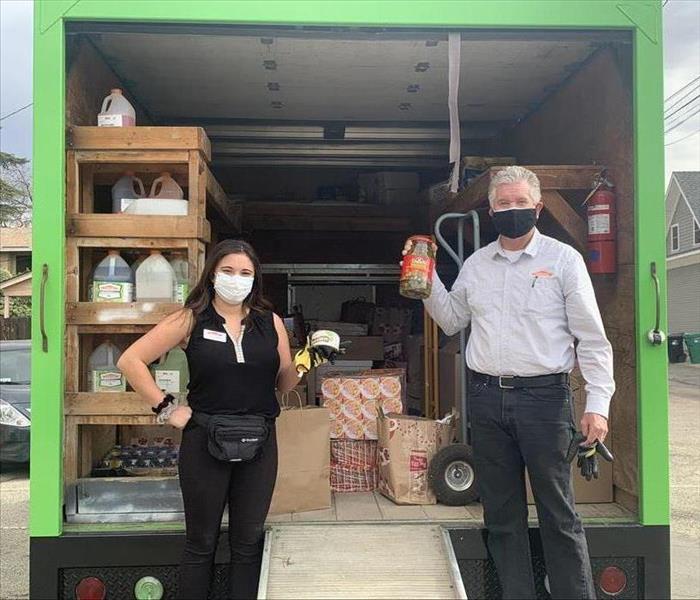 Our Sales and Marketing Rep. Peyton Russell and Sales Manager Doug Beach collecting donations for San Dimas residents
San Dimas Community Members
Joe McCann and his wife Dani have been members of the San Dimas community for over 16 years. Joe has stated that he enjoys giving back to the community in any way he can, especially supporting small businesses and humanitarian organizations.
San Dimas Rotary Food Drive 2021
One way Joe has given back to the community this year was by participating in a food drive to support the hungry. The pandemic has affected all families differently, but Joe agrees that no one should go hungry. Our Sales and Marketing Representative, Peyton Russell, and Sales Manager, Doug Beach, volunteered their Saturday to help promote and collect donations for a food drive hosted by the San Dimas Rotary Club and the San Dimas Masonic Center. Together, we collected over 2 tons worth of supplies: food, water, toilet paper, cleaning supplies, toys, etc. That next Tuesday, we loaded up the supplies into one of our huge box trucks and transported them to the Salvation Army. Raymond Foster, former president of the club, noted that without our box truck, they would've had to make over 10 trips back and forth with their pickup trucks.
Community Members
You'll see Joe McCann's team members regularly at community events. Our Sales department is dedicated to promoting Joe's kindness within our franchise areas: Glendora, San Dimas, Irwindale, Baldwin Park, South Pasadena, San Marino, etc.! If you need a water damage restoration company that you can trust, call Joe today (626)-852-9922. We'd be happy to speak with you about the damage your home or business occurred, and work together to get your home restored "Like it never even happened." Call now!