Why the Mold Hype?
1/7/2019 (Permalink)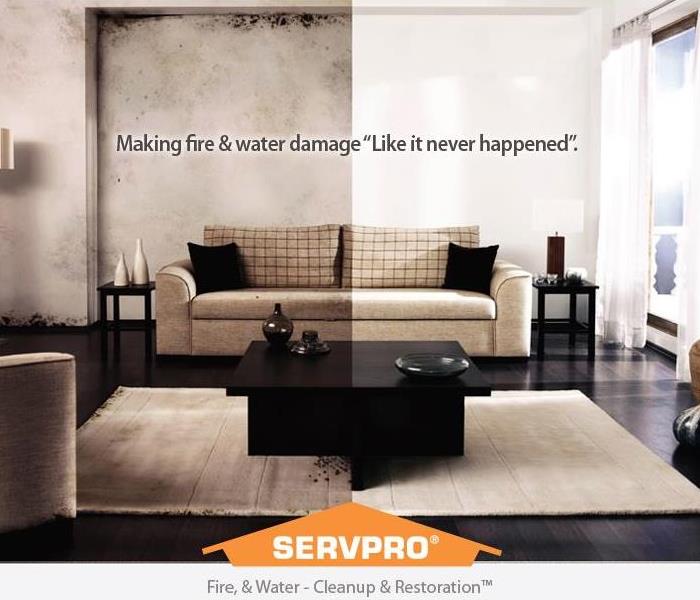 Call SERVPRO of Glendor / San Dimas today to make your mold growth or water damaged home safe to live in again Like it Never Even Happened.
One of the major reason to dry water-soaked materials quickly is to prevent permanent damage caused by fungi. Molds, mildew, and bacteria are responsible for the decomposition of organic materials. Understanding the basics of mold is important if you are in the restoration industry or even a property owner. Next thing you should know is what to do when you find it!
Mold Basics
The typical life of mold begins as a tiny spore. The spore is like a seed but smaller and simpler than real seeds. When something disturbs those spores masses, thousands of mold spores are set free. Airflow carries the spores off and they remain in the air until gravity causes them to settle. A mold spore mass is a lot like a dandelion seed head: when the seeds are released, seeds float everywhere. Spores are built for survival and may or may not start growing immediately. Sometimes they lay dormant waiting for the right conditions for growth. Those conditions include food, temperature, and moisture.
Harmful Effects of Molds
Many different kinds of molds are present in buildings and not all molds are as harmful as others. There research done by The Institute of Medicine found evidence that shows when mold is present in damp indoor situations, people exposed may experience health reactions such as:
Nasal Congestion
Sneezing
Runny or Itchy nose
Hay Fever
Sore Throat
Coughing, Wheezing
Chemical Compounds
Molds produce two types of chemical compounds in which people in water-damaged buildings may be exposed:
Mycotoxins are poisonous substances that are known to cause health problems.
Microbial Volatile Organic Compounds (mVOCs) result in unpleasant smells in our homes. These are not known to cause health effects, but odors may indicate a level of mold contamination requiring remediation and are a clue that active mold growth may be present.
If you are living in the Glendora / San Dimas area and have recently experienced water damage to your home or business and want SERVPRO of Glendora / San Dimas to help assess the damage before any mold starts to grow, give us a call and we'll come out to give you an estimate today and even work with your insurance to get the job done right!